While we've found some computers that work reasonably well, we figured we should take advantage and get all caught up. So after posting 43 photos last night just before midnight, I'm now going to post another 49 about 12 hours later.
This is a fairly classic example of some of the artwork you find in restaurants here in Vietnam. The still life with fruit isn't all that weird, I guess, but why the booze cannon?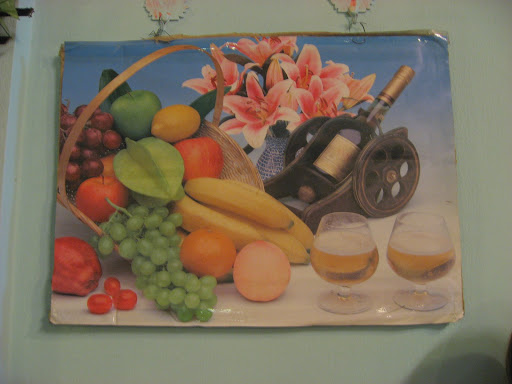 We ordered the "set menu" for 1 person at this place in Hoi An, and they just kept bringing us dish after dish. 3 or 4 more plates came that aren't pictured. Eventually we figured that they had misheard us and given us twice as much as we asked for, but no, they only charged us for one. The whole meal was about $8 and it included 3 glasses of beer and way more food than you see here.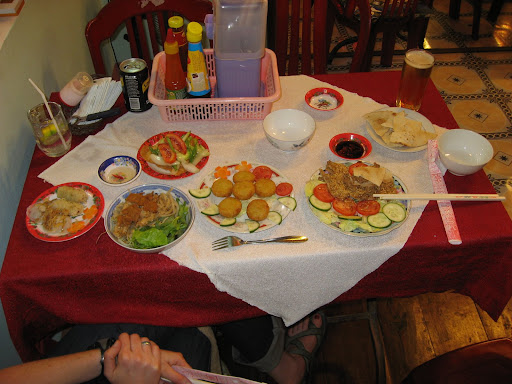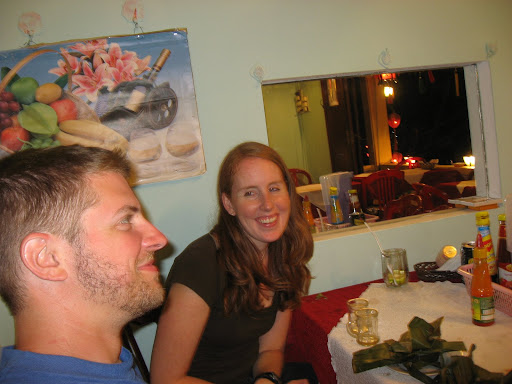 This dog is wearing a pearl necklace.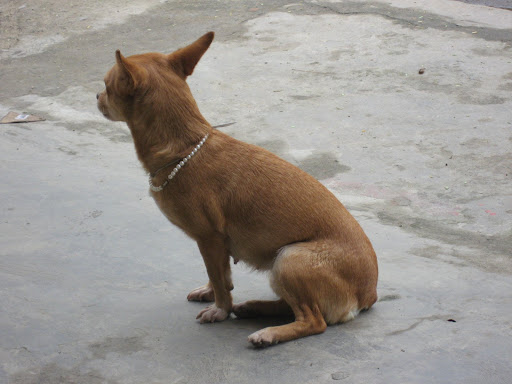 Cyclo driver. These guys are mega-annoying in Hue, but not quite as bad in Hoi An.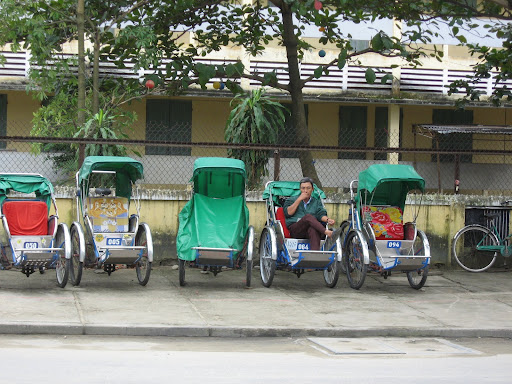 Another shot of Pho Bo.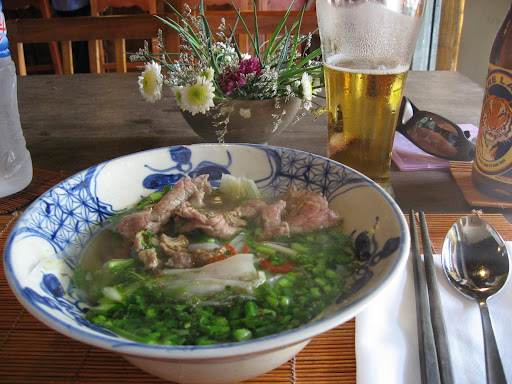 Our hotel in Hoi An was really nice, and only cost $12, but the toilet would randomly gurgle and belch up water throughout the night. The culprit: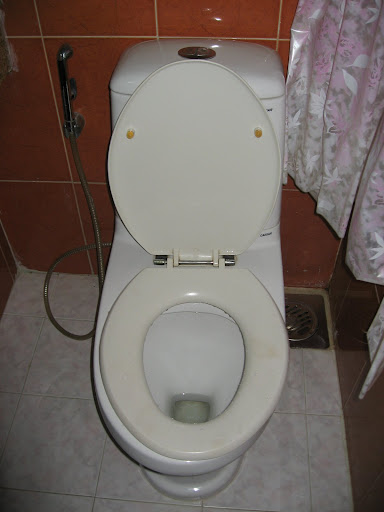 This represents how I feel about being pestered every time I walk outside here.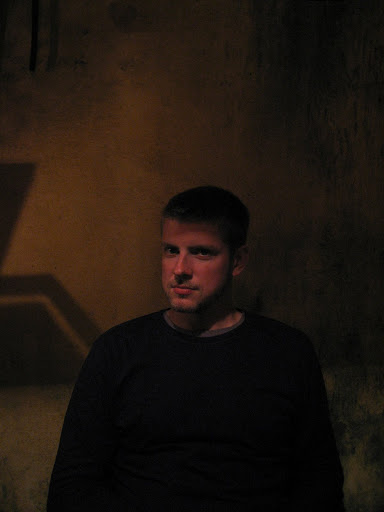 One of Hoi An's 234532463463242 tailor shops. Liz had a dress made; I had a pair of shoes made. I gave them a picture of these rare Dunlop shoes that Liz found in an advertisement in an Italian magazine. I've been looking for them ever since, and now I have a reasonably decent pair of fakes.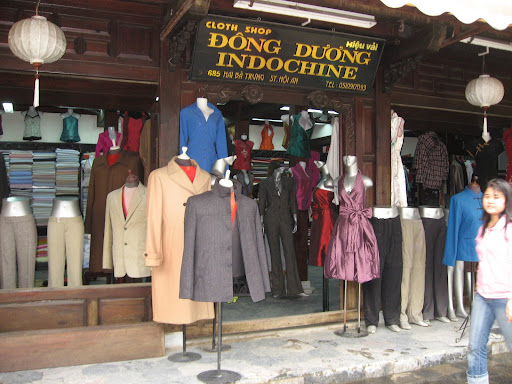 The shoes in question (I haven't taken a photo of my copied pair yet).
The is the face I make when I'm about to take a 19-hour bus ride. We were going to go from Hoi An to Mui Ne and skip the popular beach destination Nha Trang, but the weather changed our plans.
It wasn't as comfortable as it looked. There was actually a sizeable metal partition that made it impossible to lie on one's side. We spent about 20 hours on this bus but only made it to Nha Trang... thanks to a 7 hour traffic jam in the middle of the night. So we spent one night in Nha Trang (where the weather was terrible) before moving on to Mui Ne.
On the way to Mui Ne, we finally escaped the rain.
And then some.
View of the sunset from our pool. This place was $18 per night.
Liz didn't want me to post this, but I think it's humorous how her eyes rolled back in her head in ecstasy as she enjoyed just her second taste of pizza in the past few months.
Later that night, we went out for drinks and to play our new favorite bar game, where you take turns "drafting" bands and score points by the number of songs that are played by your bands. This place had pretty good cocktails that were buy one get one free, which amounted to $2 each.
Some more views from our hotel.
Fresh seafood is really big in Mui Ne. If you head into the center of the "town," all the restaurants have the day's catch displayed on ice for you to peruse.
We selected the guy on the right. It cost 120,000 (about $7.25) for the whole fish, including fried rice and vegetables for two.
Here's how he turned out. This was one of the best meals we had in Vietnam.
The next day we hit the beach and rented boogie boards for an hour.
I was reminded of why I originally retired from the sport.
Our last day in Mui Ne, we rented a motorbike to go check out the sand dunes. I'm glad I got to add Vietnam to the list of countries in which I have driven a motorbike (currently USA, Dominican Republic, Italy, Thailand, Laos and Vietnam), but the trip ended on a disturbing note. About 5km from our hotel, we were just starting to reach the edge of the city. As we turned the corner, we noticed a crowd of people gathered on both sides of the street. I slowed to a crawl, thinking we might be interfering with a parade or some other official event. But as we got closer, the atmosphere didn't seem very parade-like. There was a somber-faced policeman; a woman carrying her children quickly away from the scene. And then we saw it: There were no bodies, broken limbs or crushed vehicles. Just a disturbingly large pool of blood and a few small bits of motorbike. Sort of took the fun out of the rest of the ride. The people here really do drive terribly. I suspect that the problem will get even more out of hand in Saigon as the population keeps growing... it's something the country will have to address someday.
The white dunes were particularly cool. There were lots of little kids with plastic sleds that you could rent for sliding.
We also passed this "canyon," which was kind of cool.
Appetizing.
Here's something annoying about Asia. Usually in the bathrooms, the shower just goes all over the floor. So if you wear your shoes in there, you end up getting mud all over the place. The hotels generally provide flip flops, but they're usually either filthy or, in this case, a touch on the small side for size 12 feet. I couldn't reach the end of these; the straps were so low that I couldn't get my toes under them.
More Bia Hoi (fresh beer), the 2-liter variety. 9,000 dong.
There are lots of vendors carrying around books in Saigon. This lady had one of the tallest stacks I've seen.
Do I really need to say anything more?
Yesterday we did a 7-hour self-guided walking tour of Saigon. One of the museums we visited was housed in a really cool old building. This bride and groom obviously also thought the location was nice.
It's no joke; you really aren't safe on the sidewalk here.
Another great meal. We lucked into this place in the middle of our walking tour. As good as it looks.
Massive tank at the War Remnants Museum. They have a very impressive, very disturbing collection of photos and artifacts.
For all the hustle, bustle and noise, Saigon has some natural beauty as well.
One of the few motorbikes that isn't a 110cc bucket of bolts. This was a cool vintage BMW near the Notre Dame cathedral.
The best knockoff in Asian history? It's not nearly as impressive as the original on the inside.
This does NOT do the situation justice. I have a video; I'll have to share it later.
That's all for now. We decided to head to Pnomh Penh in Cambodia tomorrow. It turns out we'll spend a few more days there than planned, as we can only remain in Thailand for 30 days prior to our departure on March 1. Catch up with you again soon!