Quick note: Iàm working on a computer without apostrophes, so anything I type right now is bound to look funny. I wrote the bulk of the copy on my own computer, however, so most of this should look fine.
Tonight is our last night in Rome; tomorrow we fly to Qatar and then Bangkok. I still havenàt found a good place for wi-fi (the last place I saw cost
9 euro
per hour), so Iàm trying a new method of hosting pictures. Weàll see if it works.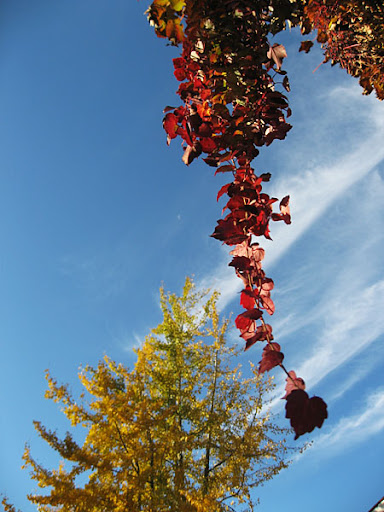 BOOM. Okay, here comes the update.
Thursday, November 1.
We had a couple hours to kill in the morning, and Liz wanted to get some pictures when the light was good, so we walked around some of the same areas we had explored the previous evening and took photos. We made the long walk to the train station with our bags and caught the train to Trento.
It was about a 3-hour ride, and in Trento we needed to catch another train on a different line--the Trento-Male line--up to a small town called Dimaro, where Adam would pick us up.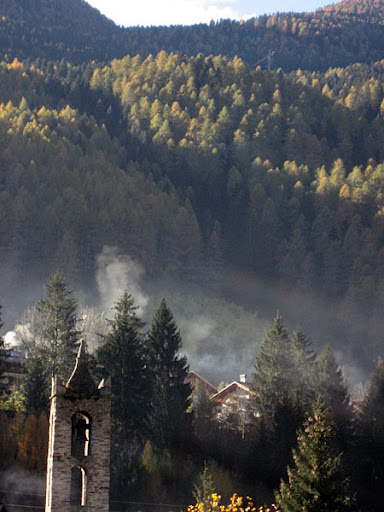 Of course, we'd never met Adam before. I knew him from the 2+2 poker forums, where he's been a regular for 4 years or so. Another 2+2er, as they're called, had recently gone up to visit Adam in the alps and filed a trip report indicating that he was a great host. Also, his restaurant and wine bar recommendations proved to be excellent, so I was confident we'd be in good hands.
I didn't even get too nervous when we arrived at the station in Male and nobody was there to pick us up. Adam showed about 10 minutes later, explaining that he had checked with the train line, and there wasn't supposed to be a train at the time we had told him we'd be arriving. This was true…. but we were lucky enough to catch an earlier one. He was planning on coming down when the later train was supposed to arrive, but thought he'd check at the earlier time just in case.
A little background. Adam is from Perth, Australia. He moved across the country to Sydney when he was about 20 and hasn't looked back since. He's been a whitewater rafting guide in Canada, Africa and Italy, splitting time between Italy and Australia for the past 8 years. Now it seems he's getting out of the guiding business to focus attention on his bar and on a book he's writing about his life. If you want a preview,
click here
. It's pretty cool stuff... make sure to scan the pages for ads' posts as his story is broken into several parts.
In any case, Adam arrived and we headed up to his place, a cozy two-story flat within walking distance of a yet-to-be-completed ski lift. Pretty sweet. Actually, on the way up we made a quick stop at Liquid Club, the bar he opened earlier this year. He and his partners had transformed an aging lodge-style bar into a hip, modern discoteca with a killer sound system.
Back to the house. Upon arrival, Adam cracked a beer for each of us as he started working on dinner, then we shared a plate with salami, cheese, spicy pickles and onions. Dinner was a slow-cooked bean, rice and sausage dish that Adam said was typical of the region. First you brown the sausage and set it aside. Then you add pancetta, garlic, beans, stock, carrots, onions (I think), and the sausage and let it simmer for 4 hours. The liquid cooks down and you mix the whole dish with rice. Apparently we looked at the wrong clock and started eating the dish after just 3 hours, but it still came out terrific. The garlic gets really soft and mild, and you can spread it like butter on the sausage.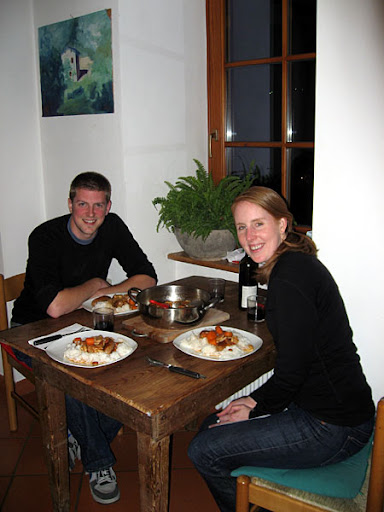 We also had a couple bottles of a great local wine, and after dinner, some grappa that actually tasted pretty good.
Now, if you clicked the link and read Adam's story, you already know that he claims to be a good guitar player. After our evening up in the Vale di Sole, I can verify this claim. When I mentioned that I played the guitar as well, he busted out a vintage axe, gave it a quick tune and showed that he's still got serious chops even though he doesn't practice much anymore.
The next day, November 2, we had a quick breakfast and Liz had her first taste of Cioccolata Antica, which is basically a super thick hot chocolate. She loved it, and we've been searching it out wherever we go since. Then Adam took us up into the mountains a bit. The wilderness up there feels a lot like it does in the Pacific NW, and there are miles of trails complete with little guest houses where you can spend the night mid-hike. We made a note to come back with our hiking gear and a few weeks to kill someday.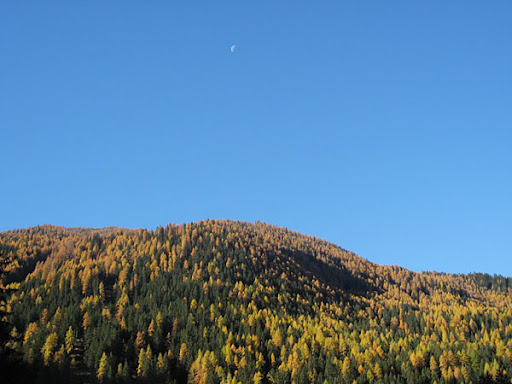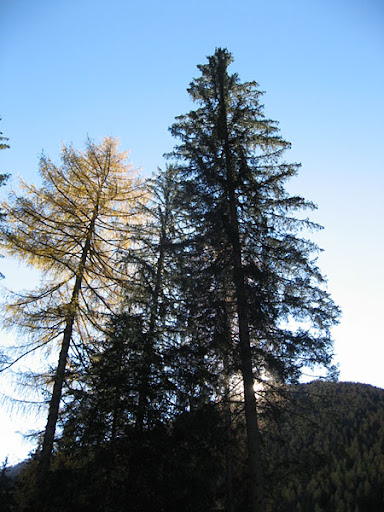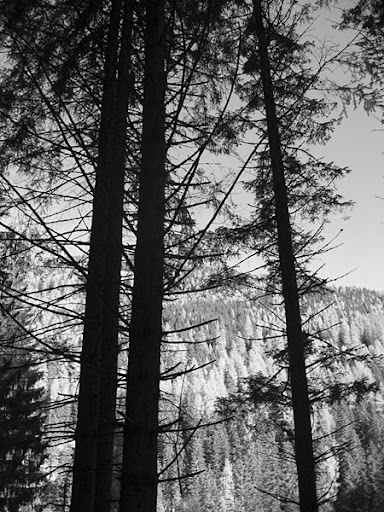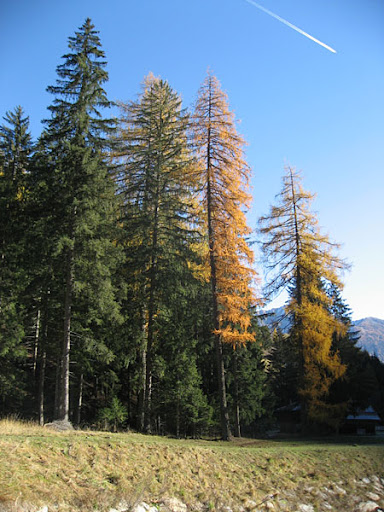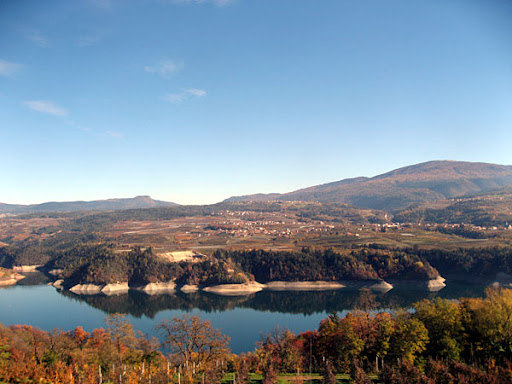 Back to the train station. We made it to Trento around noonish, then caught a longer train for Treviso, where we were supposed to meet up with Romana, one of my aunt Elena's friends.
I hadn't seen her in 15 years or so, so we didn't recognize each other at first glance. After meeting up, she gave us a whirlwind tour of Treviso, which was a lot bigger than I remembered, and then treated us to a "spritz," which is sort of an aperol/champagne/wine drink that's extremely popular in the region.
The next day we were set to check out our first major tourist attraction in Italy: Venice. We weren't prepared. We'd been in sleepy Celle for so long, and so many other out-of-the-way places like Scipione, Dimaro and Verona. And we also thought that since it was November, the tourist buzz would have died down. Lol, no.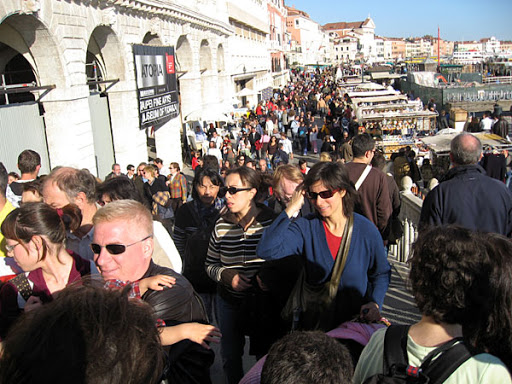 We also probably picked the worst weekend in November to visit. It was a 4-day holiday weekend (unbeknownst to us) and the weather was absolutely stunning. So as you can imagine, it was madness from the moment we boarded the train in Treviso.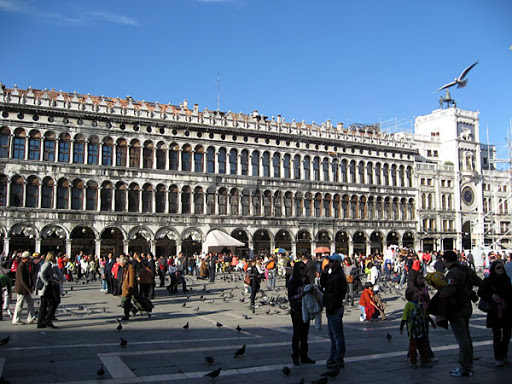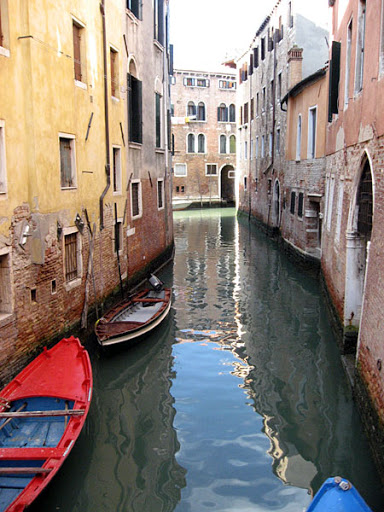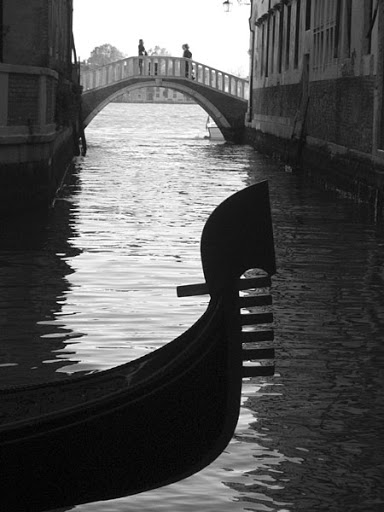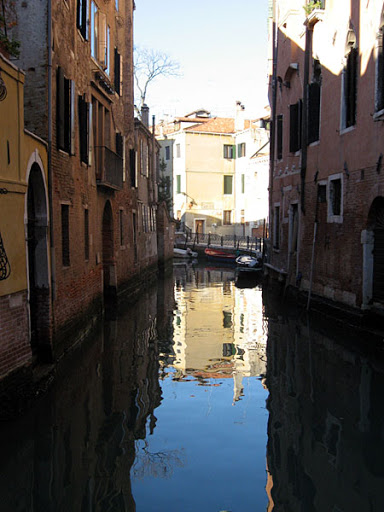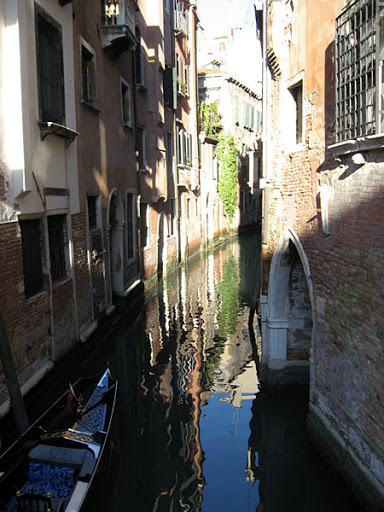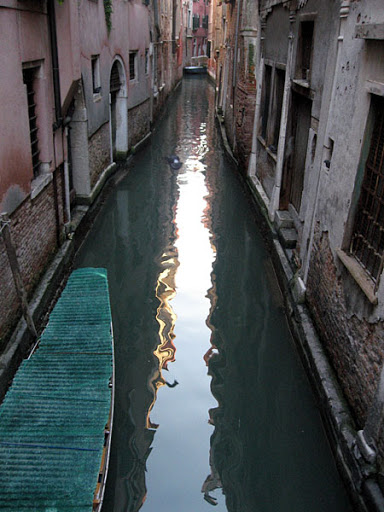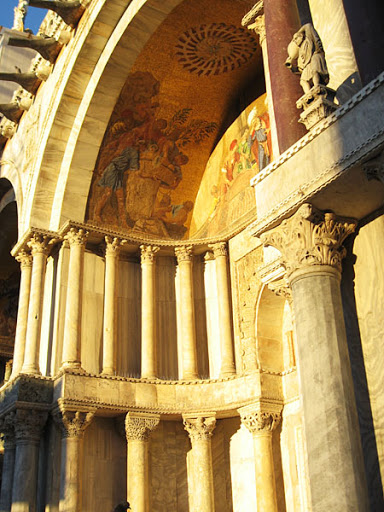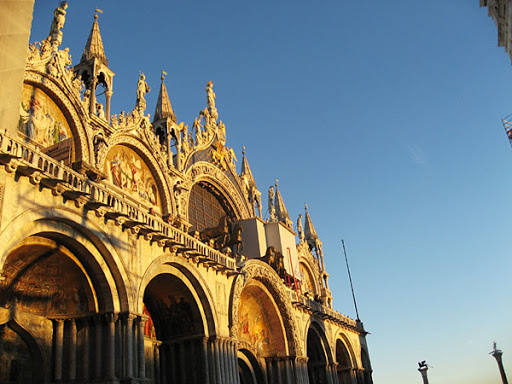 When I visited Venice 15 years ago, it was in the middle of summer, and I don't remember it being packed at all. In fact, a lot of the streets seemed empty. A lot has changed, and we're both glad we didn't reserve more than one day for the city. At least we got some decent pictures. Here's one that expresses my frustration with the crowds and insane commercialism of Venice.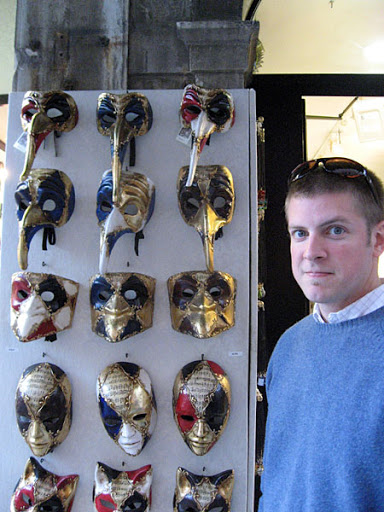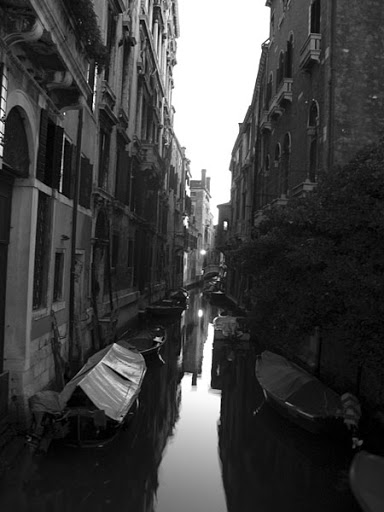 Nov 4. Florence. The trains seemed to be getting more expensive. We booked one night in Florence, but were planning on two more. We just wanted to make sure our hostel wasn't too awful before committing. It turned out to be a decent enough place in a great location with a very helpful owner.
But I'm getting ahead of myself. Actually getting to Florence was a nightmare. We had to route though Milan because I had to return the wireless internet card I bought at the train station. My computer has a PCMCIA-sized slot, but does not accept PCMCIA cards. Awesome. We returned the card without problems (thank God, it was 119 euro), then tried to book a train to Florence. We were told that the train we wanted was sold out, and that there wouldn't be one with seats available until 8pm.
Well, it's a 3-hour ride, and we didn't want to try to find our way in a totally unknown city at 11pm, so we bought tickets on the sold-out train anyway. Yes, in Italy, they just keep on selling train tickets even after all the seats are filled.
When we boarded the train, there looked to be a couple dozen people without seats throughout all the cars. We had to share an in-between space (near the bathroom) with 2 other people. But at each stop, more people got on. By the time we reached Florence, we had
13 people
with us in the little space near the bathroom! It was 3rd world country style with everyone crammed in and barely enough room for two feet on the ground. Only this wasn't a third world country where the train costs $2. This was Italy, and it cost me over $70 friggin dollars to be crammed in like a sardine for 3 hours.
We finally arrived at Florence Campo, which is a station on the outskirts of the city. From there we caught a quick 1 euro train to Florence SMN, which terminates in the heart of the city. From there we caught a bus that was just as packed as the first train. I actually had to shove people out of the way when it was time to get off the bus, as nobody was moving for a simple, "scusi."
The glamour of Europe was definitely wearing off at this point. I was sick of people getting in my way (people in Europe seriously need to learn how to walk), sick of how expensive everything was, sick of trains being cancelled and crowded, just sick of the whole thing. I was in a really dark mood when we finally reached the hostel.
There was a bright spot that evening, however. When we finally decided to go out, after I had steamed for about an hour or two, we found a terrific restaurant completely by chance. It's called the Vecchio Mercato, or Mercato Vecchio, I can't remember which. Either way, it was near the old market (obv) and we happened upon it randomly. Also randomly, Liz ordered a soup called Ribollita that ended up becoming one of our favorite new dishes in Italy. I had risotto with truffle shavings that was excellent as well. Things were looking up.
Monday, November 5.
Today was the final day of the 4-day holiday weekend, and all the museums in Florence were closed. So the proprietor of our hostel suggested a couple places to check out in lieu of the Uffizi or Accademia. Her favorite spot in the city? The piazza Michaelangelo, a park that overlooks the entire city from across the river.
We headed out and happened upon a major church by chance, so we took the time to check it out, although we skipped paying 6 euro each to climb the stairs up to the top for a view from the gallery. I figured it was almost worth it, but not quite. From there we made a brief stop in the Piazza dei Signori, which contains one of the David replicas in the city. And this statue.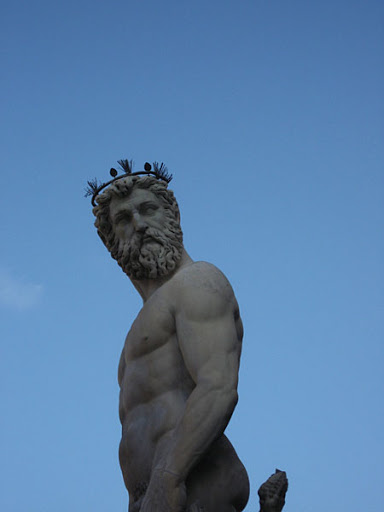 We walked along the water to the Ponte Vecchio and crossed. Then we reversed directions and headed west along the other side of the river toward the Piazza. Hereàs a photo from the top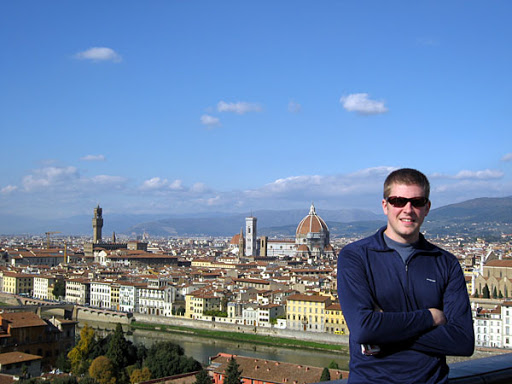 Meandering back, we walked along an old castle wall until we reached Fort Somethingorother, but it was closed. Then we spent ages looking for a decent lunch spot before settling on a place not far from our hostel. Liz had Ribollita again (and didn't like it nearly as much here) and I had penne all'arrabiatta that was
really
spicy. I liked it; Liz thought it tasted like grapefruit (wtf?).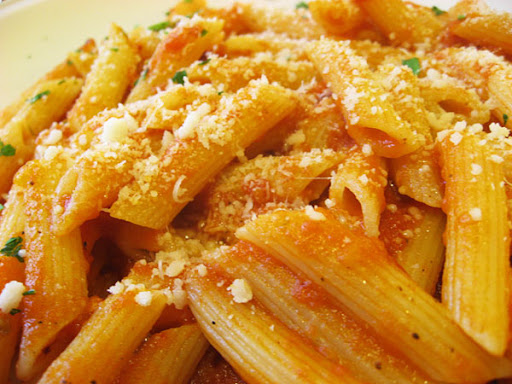 We also had a half liter of white wine with lunch. The night before, we had only ordered a quarter of a liter and found it to be too small. So we went with the half liter, which was a little too much for the middle of the day. We stumbled back to the hostel and took a nap.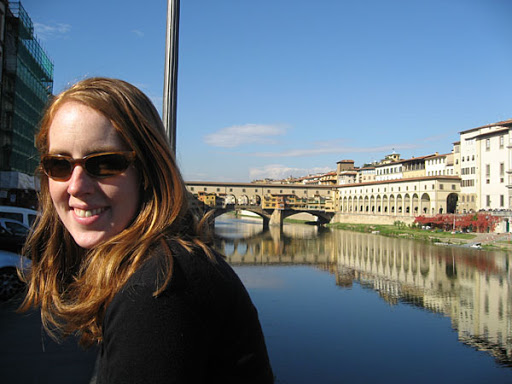 Later we woke up and went to use the internet for a bit (I highly recommend the Internet Train in Florence, if you ever find yourself there and in need of a high-speed connection), then headed out in search of a late dinner. We almost went to a place that offered pumpkin risotto, but instead picked a pizza place that was cheaper and near the Mercato Vecchio restaurant.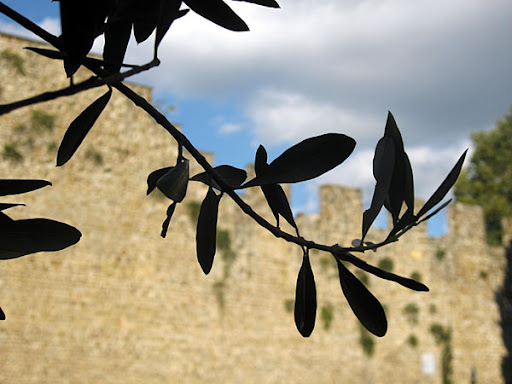 Liz had a regular pizza margherita with just cheese and mozzarella and I had one with salame piccante (pepperoni). Pretty dang good, and the waiter was really funny and earnest with his attempts at English.
Tuesday, November 6.
Museum day. We got up early and headed to the Accademie, which was only a few blocks away. The museum opens at 8:15, but, because it houses the David, the lines can get out of control if you don't go early (or you can go late and get lucky). We arrived at 8 right on the button, and we were inside by 8:30.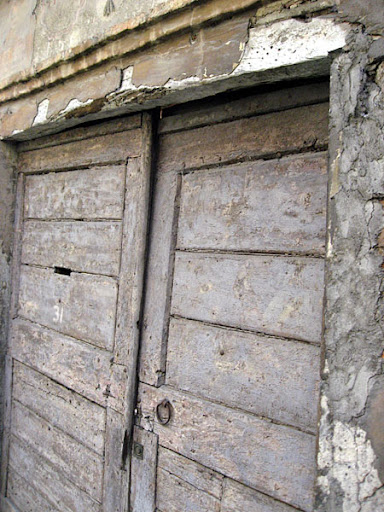 Of course you aren't supposed to take pictures in there (I saw some people doing it anyway), so I don't have any cool ones to post here. There isn't a whole lot of note in the museum other than the David, but we took our time and checked everything out.
Regarding the David. I think I probably talked it up a little bit much to Liz. Other people did too (Gail told her that you see the statue and it "breathes"). So, finally seeing it in person wasn't as earth-shattering for her as it might be for some people. Still, she admits that it's impressive.
Subsequently, we've seen a lot more sculpture, and the more you see, the more awesome the David becomes by comparison. Just think about it… a 25 foot tall stature carved from freaking marble with that kind of detail… it boggles the mind.
I think the best perspective for viewing David is from about 75 feet back… where he really pops out against the background. I understand what Gail means.
We took a break, grabbed a snack, and then got in line for the Uffizi. This line turned out to be a real bitch. We waited about 2 and a half hours outside, and then a little more inside. And then after that, the museum takes over 3 hours to view if you want to do it right.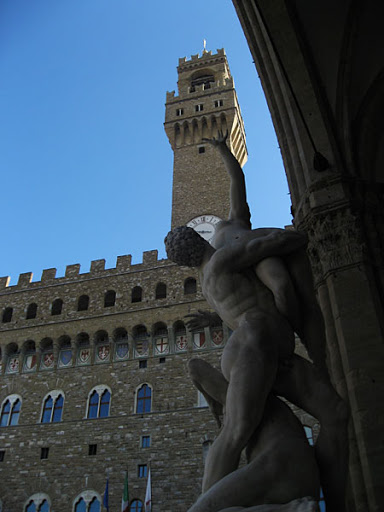 Again, no pictures. I wouldn't even have known what to take pictures of; the place is jam-packed with statues, paintings, frescoes, you name it.
After the Uffizi we crashed for a while, then picked up supplies for a dinner back at the hostel at a little market. Salami, Taleggio, Gorgonzola, Focaccia, wine and a pear. Delicious. One of the best meals I've ever eaten off a one-star hotel bed.
Wednesday, November 7.
We'd seen most of the stuff we wanted to see in Florence, so we spent the early part of the day wandering, and then we had lunch at the Vecchio Mercato again. Liz had the Ribollita (she had to have it from this particular place one more time before we left) and I had penne all'arabbiatta again. Liz thought it was worlds better than the penne I had at the other restaurant; I thought it was only a little better. Either way, it was a perfect lunch. We sat outdoors and took our time over the food… the weather was bright and just a little breezy… perfect.
After that we spent most of the afternoon on the internet taking care of business. Thank you, Internet Train. I got a large chunk of the blog published and played cards. I've been running super, mega, luckbox-hot since we left on our trip, but I almost never get a chance to play. So standard.
That night we caught the sleeper train for Messina in Sicily. We had to choose between a train that slept 6 people per compartment and cost 57 euro each, or one that slept 4 people per compartment and cost 74 euro each. We chose the cheaper one, figuring that if we have to share a sleeping cabin with strangers anyway, two more couldn't hurt.
Of course when we boarded the train and found our room, there were two surly looking dudes in there. Great. Then another dude got in. But the surliest-looking dude of all turned out to be a really nice guy. After a few hours, we assembled the beds and turned off the lights. Liz had a hard time sleeping but I was pretty cozy on the top bunk after I put on a sweater.
Thursday, November 8.
At around 6am the train pulled into a stop just across from Sicily and a few people got off. Then it did a curious thing. It moved a little forward, then a little backward. A little forward, then a little backward again. Sometimes the trains do stuff like that when they get near a station and they want to park correctly, or they need to change tracks, but this seemed a little extensive. Finally we got to a covered spot and I heard a lot of loud clanking and yelling. It seemed like we were stopped. We sat there for maybe 10 or 15 minutes while I waited for us to get moving again.
Eventually I felt a little motion. But it wasn't back and forth, it was up and down. People had been getting up and moving around, so I left the cabin to check it out. We were parked inside a boat! I guess I hadn't really thought about how the train was going to cross the sea to actually reach Sicily, and it made sense, but it was weird as hell! The forward and backward moving was what they had to do to load the cars into the boats, because they couldn't fit the entire train all at once.
Eventually I wandered over and found a porthole. I stuck my head out and caught a fresh breeze and an amazing view of the sea and the island in front of us. The porthole was only about 10 feet up from the water… if we hit a big enough wave I could catch a little mist in the air. It was spectacular.
I headed back to the cabin and waited out the rest of the ride, which was extremely short once we reached the dock.
We caught another train immediately for Catania. From there, we needed a bus, and another hour and a half, to reach Valguarnera. Finally, after traveling for about 17 hours, we arrived. Liz was catching a cold and I was extremely fatigued, and we didn't exactly know where to go. We started walking along Via Garibaldi, which was one of the names I was able to pick up during my conversation with Rosina, the cousin of Liz's grandfather.
Unfortunately, the other name I picked up was "via Taladria" which was just close enough to correct to be extremely confusing. The real street we were looking for was Via Calabria. So we just walked along Via Garibaldi for a while, hoping to find something close to Via Taladria. Before long, we stopped in a tobacco shop to ask directions. We weren't making good progress until the owner asked us who we were looking for… Calogero and Rosina Speranza. Well, his last name isn't really Speranza, but Speranza turned out to be the key word. There was another guy who just happened to be in the shop named Giuseppe Speranza. He called Calogero and Rosina, determined that he was related to Liz, and then offered to drive us where we needed to go.
He actually took us to meet Calogero and Rosina's daughter Silvana and her son Vicenzo, who walked us over to Calogero and Rosina's.